Bastion
is the hardest hero to deal with when your team is uncoordinated, or refuses to give Bastion the respect he deserves. At many times, playing against Bastion can be
very
frustating. Remember that; as the frustation you feel will cause you to play poorly against Bastion. Always take your time, and work with percision against Bastion, it is the overarching theme to giving him the beat down.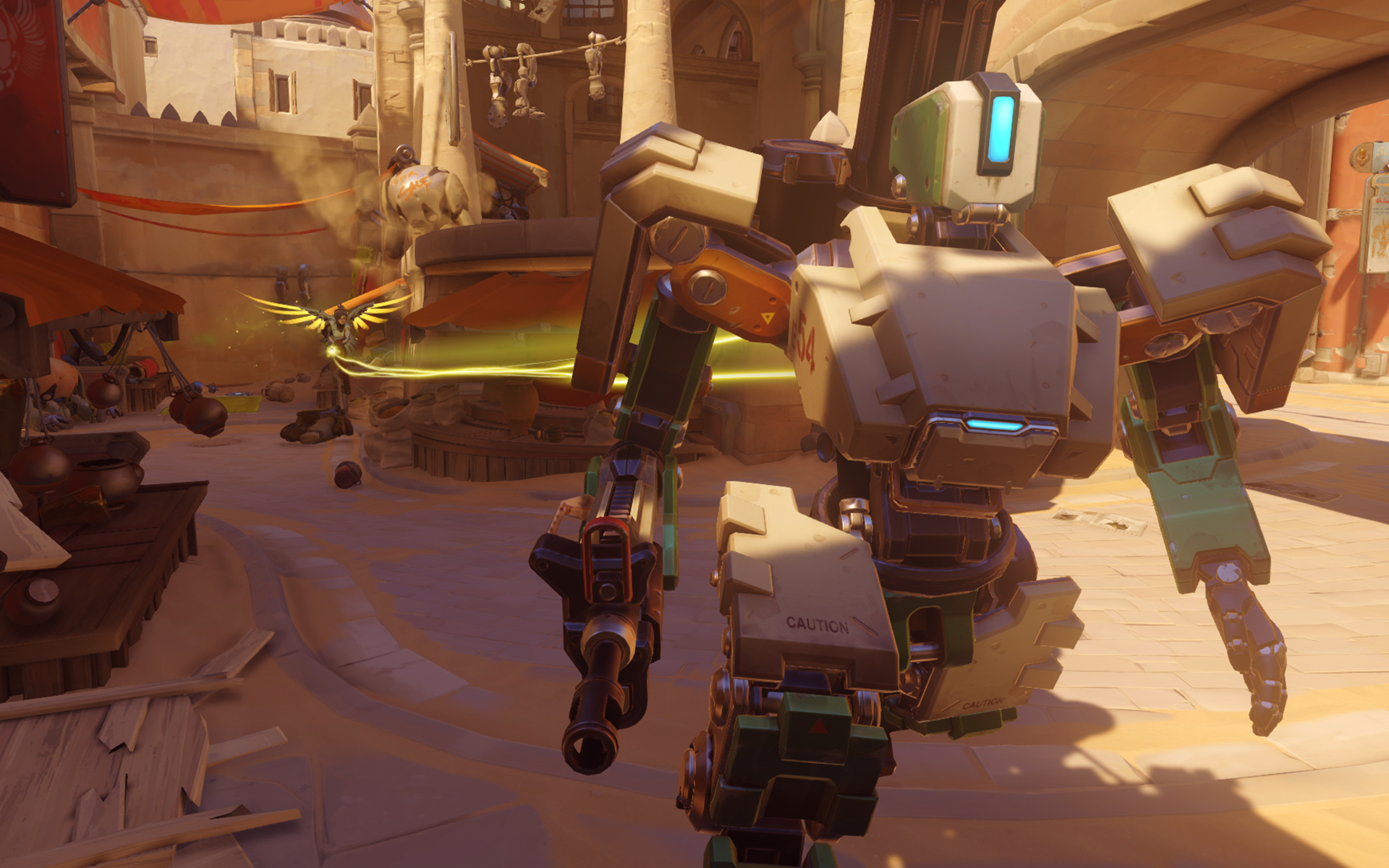 Stats we need to know before moving on: Bastion has
300 HP
(health points) with
100
of them being
Armor
(this matters because Armor negates half damage if the instance of damage is less than 10, or negates 5 if its greater than 10). At about 30 RPS (Rounds per second) doing 4-15 damage, his Sentry Gatlin gun will shred through you.
Avoid his line of sight at all possible times because of this
. It takes bastion somewhere between 1 and 2 seconds to switch between modes, allowing for free damage to be dealt. When in his Sentry Config be aware of the Energy Core on his back, shots here will deal 300% damage. Additionally Bastion comes equipped with his own healing for 25% of his HP, or 75 HP per second. Finally, his Tank Configuration adds an additional 150 Armor'd HP - its not easy killing this tank.
Besides being clear-headed, Bastions weaknesses come from flaws with the Heroes style of play. His inability to
both
do damage and move consistently is important to exploit. While switching from Sentry to Recon configuration is decently short (and has the added benefit of reloading the Sentry's clip), Bastion still isn't going to get very far very fast.
Quick moving heroes can exploit this by getting up into Bastions face and forcing him to rotate the full 360°. Even if we do not successfully kill him on the first attempt, we have created fear for the Bastion and will distract him from killing your teammates.
have
to move to avoid dieing from the snipers.
Using Bastions immobility is very important; never forget that even if your efforts do not kill the Bastion. If Bastion is forced to setup in a less ideal location, you have already mitigated the impact that he can have. Sometimes Bastion is only the problem because of where he is. When he moves, use this to create tempo by pressuring the Bastion immediately - consistently preforming harassment like this will prevent him from ever being able to focus on your team.
Bastion's Tank Configuration is a
ridiculous
amount of damage per shot, 205 to be exact; So kiting or hiding from a Bastion when he is a tank is imperative. Outside of your team being able to get behind a Reinhardt shield, there isn't a clean way to negate the damage. Also Bastion receives an additional 150 HP in Armor (which matters because armor mitigates damage) for the duration of his Ultimate. This make it much harder to kill Bastion when his a tank, so again, running for cover is always a smart call.
Before deciding what heroes you want to use to counter Bastion, remember that
most of the heroes
in the game
deal with Bastion effectively
if played to their potential. Bastion is a very simple hero in design, execution, strategy. This is both responsible for why he dominates us in matches, and why we can and will dominate him. A well thought-out, executed, and clean push onto the Bastion will quickly throw their team into discord and loss of tempo. Do not let the simplicity of Bastion's play get to you, make it get to Bastion and force them to switch; Bastion can never hurt us if we are consistently keeping him on the back foot or dead.
Playing Tracer against Bastion is some of the most fun you can have has her, or the worst experience of your life. Bastion does not counter you in anyway, but you can easily counter yourself. Having only 150HP, if you miss-step too much around a Bastion he will get you down very quickly. So be ready to be highly agile, never stop moving, and blinking in intervals while you are firing to out maneuver their ability to turn and shoot accurately. Something you can practice in the shooting range to help a lot with this. Blink through a bot, turn around as you are blinking and get a full clip off and as soon as its out blink through. Always face where you are blinking for this practice, as its harder to learn to blink forward and turn 180° while shooting, than it is to blink backwards while shooting.
Using Recall to get a kill on the Mercy or Widow protecting the Bastion allows you to "over-commit" and secure kills where others would have died. Use this to pick away at the support around the Bastion, or just to kill him and reset. Personally once I have killed the Bastion, I will quickly move to intercept him on his way back from spawn. Camping heroes as they run out alone, this will give your team a perpetual power play, and ideally snowball tempo to victory!
Widowmaker is another one of the go to's for dealing with Bastion. Much like Hanzo, her Grapple allows her to get elevation advantage and snipe down on the enemy team. Her Venommine is both a damaging ability doing 75 damage over 5 seconds, but also a information tool. Playing a strong Widowmaker against Bastion is all about picking the supports that don't respect your angles, and putting two high charge shots into a Bastion. Regardless of if these are critical hits, it will drop him down to under 100 hp. Because of his 300 HP and 100 of that being Armor, it will take a 3 well aimed shots to kill him. But, like above, there is power in just hurting and forcing a Bastion to move. Forcing your opponents hand it critical to gaining tempo and map control, and few heroes do it like Widowmaker.
Grapple is a personal favorite, this ability allows you to do so much more than normal sniper. Being able to get into hard to reach places or high elevations gives us a strong field of view. Not only can we see more, but when setup properly a Widowmaker will only be exposed from where she is already sniping. Positioning properly so that you have maximum view, and minimum exposure is absolutely necessary to playing a good Widowmaker. Most importantly our grapple is a life saver. When flanked we can now jump down, grapple back up; or just grapple laterally away. Do not forget once your Grapple is thrown, you can move your camera to face any direction.
This is where Genji can and should dominate. When a team is playing a strategy that is static in its position, his Shuriken spam can soften up opponents very quickly, while building his ultimate charge. Consider this with the fact he can wall climb, Genji is built be assassinate the enemy Bastion. Add the benefit that he has a sword dash that does damage and clears a large distance (Note: it resets when you get a kill or activate your ultimate, so learn to use this to your advantage!)
In addition to Genji's ability to climb walls, he comes with a double jump. Simply hit jump again while in the air. Not only does this allow you to jump to higher locations, but you can jump over someones head and change direction mid air. This is very helpful when your ultimate is running, so you can maximize your damage output!
Mentioned shortly above, your Swift Strike does moderate damage and will reset upon kills or activation of your ultimate. Using this ability to finish off a weakened Tracer or Reaper is amazing, but against a Bastion is has so much more potential. When used in conjunction with good Double Jumps and wall climbing, Genji can quickly flank, harass, and kill the Bastion. Once dead, the exact same abilities allow you to quickly escape either the same way you came, or through a different route.
Dragonblade is a very strong ultimate, but in a game where we are primarily focused on Bastion it isn't that exciting. Particularly, when we speak about countering or stopping the Bastion. Mainly you will be using your ultimate when normally do; to win teamfights, chain picks, or pressure the back line of your enemy. Against a Bastion, while slicing and dicing him up is fun, its not uniquely easier than before with a good spam, a well timed deflect, and clean dash. So do not worry or fixate on using our ultimate to negate Bastions impact, we should be able to just fine without it!
Soft Counters to Bastion
D.Va (High Difficulty)
Being a tank, she naturally does not mind shortly crossing the vision of a Bastion. The boosters on her Mech allow her to get different angles on Bastion. This is helpful when your team is in need of a alternative path to get to Bastion. A Flanking D.Va can have devastating effect, especially when she has a ultimate available.
Most importantly for being a counter, her Defense Matrix will block 100% of Bastions fire during its duration. This will create room for your team move around and deal with Bastion. Use this when your team is taking larges volumes of fire, or when you yourself need to get up close and personal with Bastion. Remember this can block projectile based ultimates (Tank Configuration, Dragonstrike, Barrage, Graviton Surge, etc.)
Her Self-Destruct on the Mech gives her a very strong tool to outright kill the Bastion, and enemies protecting him. D.Va is significantly better than Heroes with similar Ultimate effects because you cannot kill the Mech when its Destructing, and she can use her boosters to lob the mech into the air, causing it to fall on your opponents. This has the added benefit of never even putting D.Va in harms way.
The most versatile hero in the game, Soldier deals with Bastion anyway you would in another FPS when a team is turtleing/defending very well. His sprint allows us to quickly move around and change positions, creating better opportunities for us to poke at the Bastion and his team. Helix rockets offer us a accurate, long ranged, option to inflict pain on the Bastion. Couple this with the ability to heal yourself, and Soldier becomes the only Hero that just works against everything.
Against a Bastion, Soldier's job is more or less the exact same as always. You want to roam the map, slightly to the sides if you can, and find easy to pick targets. When there aren't any easy picks, or isolated heroes, we can easily set up at a fair distance and poke at our enemies. This is where sprint is quality of life ability, because we can hunt down most heroes and run away when things get too hot.
Helix Rockets are basically a 9 second cooldown on Pharah's rocket launcher. They do a full 120 damage when direct hit, and still have a fair radius of splash to work with. These rockets also do not lose height over distance, so we can shoot them from anywhere we can see the enemy. Use this on cooldown against the Bastion, and he will consistently have to move around. Bastion cannot risk taking two Helix rockets and some fire from you, let alone any harass your team is already throwing out.
The best part of Overwatch is we get to hack! Soldiers ultimate(Tactical-Visor) is absolutely amazing for helping to push into a Bastion. Because we now have aim-hacks (meaning you fire and see someone, it will hit them no matter where your reticule is), you can quickly poke out use a clip and duck back. All of your bullets will hit, and the damage is something that cannot be ignored. If use this during a concentrated push, every clip is basically a kill. Remember that when we activate our visor our clip gets topped off, so get value out of your last clip before using it.
Zarya (Medium Difficulty)
One of my personal favorite heroes, her tool-kit is ideal for dealing with Bastion. If she was able to tank more of Bastions damage, or have more of an effect at long distance (she can lob alternate fires, but you can't bounce them off the terrain for maximum damage), Zarya would be a very hard counter to Bastion. Unfortunately for us, she is balanced and we can only lob blue death from so far effectively and safely. For us to get our high energy charged bombs to connect, sometimes we are going to have to put our Hero at risk; this why I personally will save your self-barrier for when Bastion begins to focus you.
Without a high charge, your alternate fires do 46 damage. With a full charge, direct hits are almost dealing 100 damage (this is the same as a charged Widowmaker, or Hanzo arrow). Three well placed lobs can quickly tear down a Bastion, or any of his teammates supporting too close to him. Consistently spam your alternate fire in and around where Bastion is setup. Just like other explosive damage type Heroes, this spam will force Bastion to respect you and move, or just kill him.
One of the best parts about Zarya when dealing with Bastion, is your barriers. Well timed barriers on yourself can allow a few more lobs, generate charge for your weapon, and waste the efforts of the enemy. If you are able to generate your charge quickly enough, you can even play more aggressive with your barrier to open space for your team to make plays. At full charge, running out to lob one shot, using barrier when you take damage and sliding in one more lob could easily pick off 1 to 2 heroes. Better yet, when you are using your barrier effectively for your teammates, 2 of the 6 heroes on your team take significantly less damage. Lastly on barriers, remember a well timed barrier does more than block damage; It will block hooks, stuns, remove freezing effects, and even tank an entire Rip Tires damage for that one player.
Last but certainly not least, Graviton Surge is simply amazing. No other ultimate in the game has the same game winning effect like GS. While you lose the power of stunning the enemy with your ultimate, vacuuming up to 5 or 6 heroes into one small area makes everything else easier to do. Any follow up inside a well placed GS will result in the enemy team being dead or having little response afterwards. To make this even better, when placed properly, it will pull Bastion out of his position and into an awkward spinning hug with his teammates. This can be placed on the other side of some walls/floors to draw enemies up/down. Finally, GS is lobbed just like our secondary fire, which means we do not have to put ourselves at major risk to get this off. All this is why I personally choose Zarya to deal with Bastion - though I still think she isn't quite a hard counter.
For flanking, harassing, and killing Bastion, Reaper only shares success with Tracer and Genji. Using his Shadow-Step to get behind Bastion and quickly blast him will catch most players off guard. If Bastion is ahead of the game and knew you were coming, Wraith Form allows us to quick escape without risk of dieing. Use Reaper to directly deal with the Bastion, get behind him/his team.
The ability to "teleport" to another location crossing gaps/climbing elevation is any amazing tool, and gives Reaper the mobility he needs to make big plays. However, when you both begin channeling Shadow-Step and are finished channeling, you cannot move and still take damage. Be aware of this, and teleport to places that enemy team cannot see, or just aren't looking. Especially pay attention to any snipers, if they playing properly they will cover Bastion and prevent you from getting easy flanking Shadow-Steps. Always consider killing the snipers first.
Wraith-From is a disgusting ability. You enter a state where both you move freely through any crowd-control (freeze, stun, or knock-down, etc), and cannot take any damage. As seen in the above picture, Tracer is trying to hurt the Reaper but to avail. While you cannot shoot in this form, it is still absolutely critical you use your Wraith-Form properly/sparely. It has a 8 second cooldown, and IS your only escape. If you are going to use if offensively, like to sneak up behind the Bastion, be sure you will get the kill; if you are caught without Wraith Form you will die.
https://youtu.be/g2NZsSyRA9s
Death Blossom hurts, a lot. Its one of the strongest damage follow ups in the game, dealing 600 damage over its 3 second duration. This is where the best Reapers show off, because coupling your Shadow-Step and Wraith-From to quickly flank and drop a Death Blossom will give your team a fighting edge. You can use this to kill the Bastion, especially if hes next to a Mercy or another hero, but primarily this is your way of hurting the team around Bastion. You shouldn't have too many troubles kill the robot alone, this ultimate will make it so the follow up teamfight should go in your favor.
**Lúcio (Still unsure - removed him from spreadsheet) (Hard Difficulty)
This is one of the most indirect soft counters we could pick to deal with Bastion. Lúcio may only offer us some speed and healing, but it is more than most realize and his speed boost will allow your team to quickly jump and punish any out of position Bastion. Lúcio's ability to climb walls using wall riding, gives him the ability to quickly change elevation.
Another huge benefit to being Lúcio against a Bastion is that your Sonic balls have no distance or damage drop (dealing 16 damage per ball). When playing the Lúcio against Bastion remember to keep your team topped off, and focus on speeding boosting when you try to advance. If you do happen to hit the Bastion with a few bursts of Sonic Balls, he will be forced to move. Again this is not the victory we wanted, but it is one we can be happy with.
Speeding along, we also have to consider what positions our wall riding (that you can climb with when executed properly) can get us into, or situations it can get us out of. Getting a quick flank off could allow you to use your SoundWave and push the enemy team out of their turtle shell, and into the world. Even if we are not able to get everyone we wanted to, ideally our play forced an overreaction from the enemy team that our team could capitalize on. Be careful when attempting plays like this however, you could die and leave your team down a support. These plays are usually best made when you have your ultimate up, or your team is ready to follow up.
Breaking it all down, Sound Barrier should be one of the best ultimates to get up and personal with a Bastion. Your 500 HP shield allows your team to push forward without to much risk of getting completely shredded by the Bastion. When you couple your Sound Barrier with a turned up speed boost, you will be on the objective and killing Bastion in no time. This style of pushing into Bastion is especially strong when you couple it with a Winston.
Winston (High Difficulty)
This is probably one of the weaker soft-counters to Bastion, but assuming your team lacks methods of getting on-top of Bastion Winston can help a lot. His leap allows large distances to be covered quickly, and he can jump straight up if need be. His dome barrier allows you to cover key choke points for 3 seconds while your team quickly moves through. His Tesla gun is ideal for jumping and junking around while fighting, and it has the added benefit of hitting up to 4 different targets at once. As the Winston our job is be in the enemy teams face, disrupting the Bastion, and providing your team with temporary safety to win the fights.
Leap is what makes Winston the best tanks at fight disruption. Being a good Winston player requires you to understand how much abuse you can take before you need to leave. Leap gives this player a means to get in, and a few seconds later leap right back out. Using this to jump on a support that miss-stepped, or jump on top of a Bastion when he isn't ready can quickly net a kill or two. So use leap to get into an ideal location for the fight, and leap when you start to get too low. This will leave the enemy team frustrated because they wasted all that effort without killing you
https://www.youtube.com/watch?v=oqupHSwB7_w
Your Barrier is MVP here, and in most circumstances. As Winston we need to be very precise about how we use our Barrier. Having a 13 second cooldown means that when we use it, we need to get value out of it. Using your barrier to cover a choke point that your team needs to run through to get into better positions is very nice. And although Reinhardt shield does a similar effect, Winston can drop and forget about it, allowing you to worry about where to position and how to fight. Also, barrier will be the reason you live when aggressively leaping in. Once you have leaped in, you are going to be surrounded by at least a 2 or 3 heroes, so drop your barrier and start juking. Weaving in and out will reduce the damage they can deal to you, and allow you to stay longer before leaping out! This has a pronounced effect against Bastion because not only does he have to follow you as you jump around him zapping, but some of his damage will go into the barrier and not you/your team. Mastering the art of barrier juking is key to become a strong Wiston.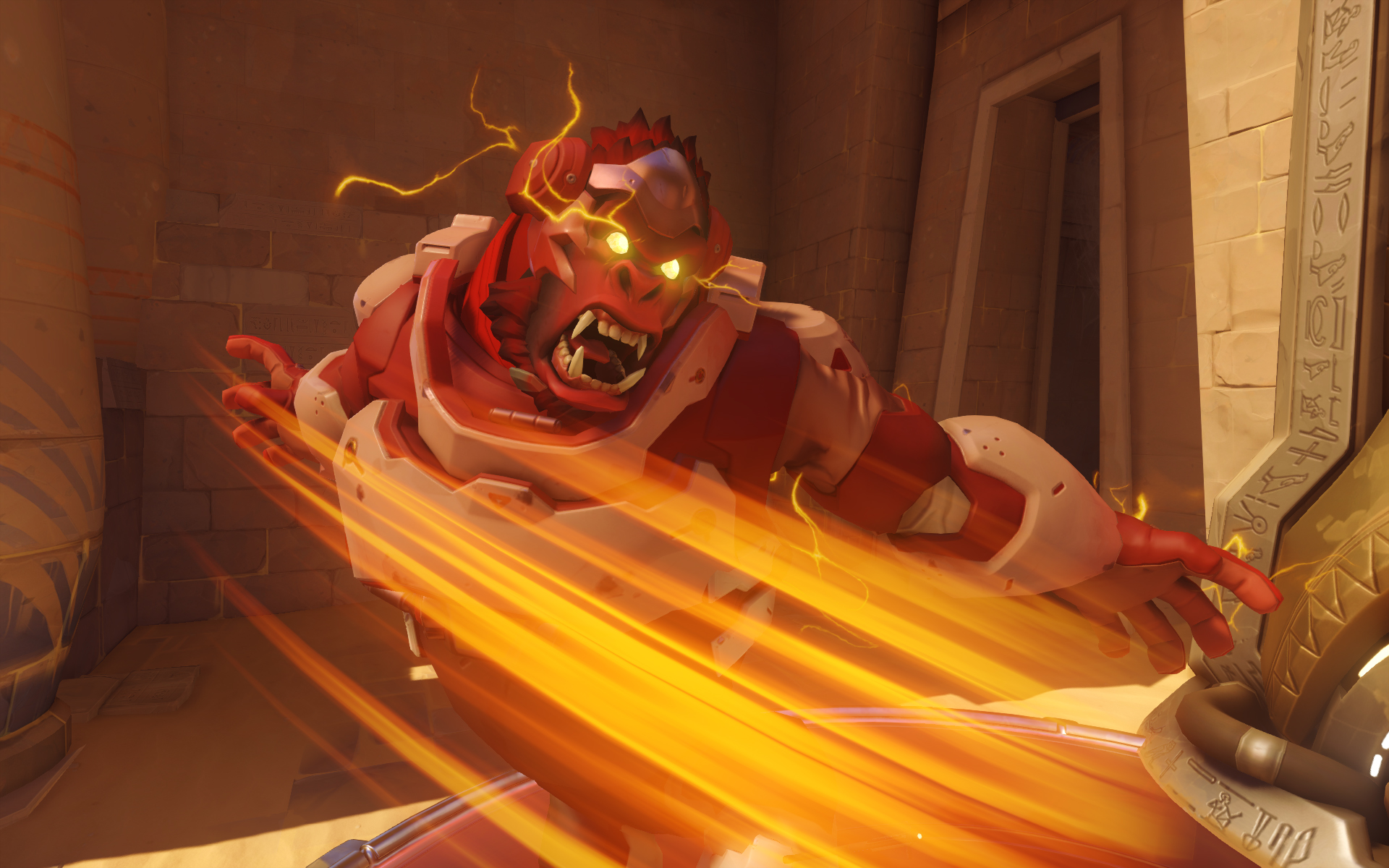 Primal rage usage will change the outcome of fights - upon using it Winston health goes from 500 (with armor) to 1000 (with no armor) and heals you to full. The above method of leaping in, dropping barrier, and harassing now can be combo'd with a well timed Primal Rage, negating all damage dealt to you. This will not only infuriate people, but like when we leap out at low hp, they wasted over 400 damage just trying to kill Winston. On a lot of maps this ultimate is highly undervalued, Winston loses the ability to shoot people with his Tesla gun and cannot drop barriers, but leap is still available and your "gun" is now a fist. Even more, the smacks from Primal Rage have a large knock-back, and can literally throw an entire team off the cliff and secure a capture-point/Pay-load/victory.
Roadhog (High Difficulty)
While Roadhog may not be able to get directly to Bastion at first, this does not lesson the impact he can have on dismantling the fortress around Bastion. If we are going to take care of the Bastion, we most times will have to get a pick; using our hook to grab an enemy so Bastion cannot assist them is ideal for this. Roadhog is probably the strongest pick generator at the moment. The range on his hook being a little over 21 meters, gives a fair range to start working. If and when you land a critical hook, your team will quickly gain some space to pressure the Bastion directly. You never know when one hook becomes two, and bastion is starting right down your Scrap Gun.
Roadhog also comes built with healing, and here its never mattered more. Your team is going to need to you to make some risky hooks, put yourself across Bastions line of fire, or put you right up in the thick of it when you use Whole Hog. Being able to step back for a second or two and Take a Breather, makes it so you can operate isolated, or allow your healers to focus on other more important heroes. Healers remember, a good Roadhog can heal himself most the time!
Most importantly here is the power of Whole Hog. Nothing is more disrupting than a Roadhog getting off a multi-hero ultimate, especially when you can use it to push people out of position or up against walls. This part of Whole Hog because exceptional when dealing with Bastion. Most of the time there is going to be a Winston, or Reinhardt providing Barriers to protect Bastion, however Whole Hog not only rips through Reinhardt's and Winstons Barriers, it deals devastating damage. When we are able to successfully pick someone, flanking with our Whole Hog could push Bastion and his protection right into your team.
Remember here as Roadhog our goal isn't to out right kill the Bastion, our counter comes from our ability to punish, pick, and then start a "pick-train." If we can accomplish our job as our team needs to push, Bastion will always be left with less to guard him thus a much easier kill.
Thank you for reading this! I will be editing all guides after launch with relevant details and fixes! If you have any thoughts/feedback feel free to comment or Email me!
Sources